'BISS Grand Ch Nightquest Head Turner'
'Smash'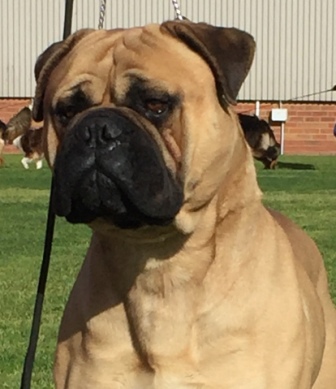 Smash is our eldest male at Nightquest and was Elise's pick of a lovely litter by Trixie and Bravo. He is a striking fawn boy with a super outline. He has a faultless temperament…..except for his inability to comprehend what 'no jumping' means. His incredible show career which has exceeded our expectations includes a Best Exhibit In Specialty Show, 2x Challenge Dog at Specialty Shows, a Group 1st All Breeds, Runner up Bullmastiff of the Year 2015 and countless best of breed, class in group and in show wins.
25/4/17 Smash gained his Grand Champion Title.
Smash is a proven stud dog with excellent hip and elbow scores.
Critiques

Opposite Baby Puppy in Show - 6th National Bullmastiff Specialty Show 2014.
Judge: Judge - Ms Fiona Miller (Meitza Bullmastiffs - Scotland)
This boy has a lovely outline in profile. He has a broad skull with good depth and breadth of muzzle, nice eye and ear. Good reach and arch of neck, lovely straight front with good bone, good depth chest, good body proportions, balanced front and rear angulation. Movement so well in front, rear will come with age.

Junior In Show - Bullmastiff Club Of Victoria Specialty 20/9/14
Judge - Mrs Yanina Smith (Tas)
Fawn dog. Youngest In Class. Good height to length proportions. Square skull. Slightly short muzzle. Wide mouth, slightly undershot. Small ears. Lovely arch of neck. Firm topline. Would like more slope in pastern. Very good hindquarter angulation. Would like tail set higher. Correct coming and going. Good drive.
Intermediate In Show & Reserve Challenge Dog - Bullmastiff Club Of Victoria Specialty- 31/10/15
Judge - Mrs Patricia Hall (NSW)
A good quality Class. Well balanced dog, excellent boning. Excellent head type. Good bite. Good open nostrils. Very good strength of muzzle prefer a little more length. Would prefer his eyes darker. Excellent tight feet. Moved very well. A very balanced dog.

2nd Intermediate Dog - Bullmastiff Show Of NSW -10-Sep-16
Judge - Breed specialist Mr Bradley Richards (UK)
Fawn dog good pigment, could do with a bit darker eye, a bit short in muzzle, good width of under jaw, nice deep chest, liked his front and rear construction, level topline, moved very well.

Best Exhibit In Show - Bullmastiff Club Of Victoria Specialty - 30/10/16
Judge - Mrs Dimitry Alexander Raamsdonk (Netherlands)
Compact build, square skull, short and blunt muzzle, pronounced stop, correct bite, v-shaped ears of correct size well placed and carried, dark brown eyes. Strong well arched neck. Strong build, good strong bone, stronger pasterns desired. Deep brisket with good spring of ribs, strong topline. Tail placement could be a bit higher ideally, good length of tail, sufficient agulation, nice coat, excellent condition.

3rd Open Dog - 7th Bullmastiff National Specialty Show QLD - 24/6/17
Judge - Mrs Susan Cox (Colom kennels UK)
Moved well with straight topline and good drive. Square, well boned dog, square head, level mouth, good expression.
1st Open Dog, Reserve Challenge & Open Of Breed - Association All Mastiff Breeds Specialty - 24/9/17
Judge - Breed Specialist/Author - Mr Bas Bosch (Belgium)
Lovely type and size. High quality dog with plenty of substance in a clean cut package. Well developed head with a broad deep muzzle. Strong stop. Lovely cheeks. Broad flat skull. Lovely sized and well carried ears. Textbook wrinkles. Well placed and shaped decent coloured eye. Quality legs and feet. Clean cut extra solid front. Lovely neck. Plenty of rib. Lovely underline. Strong back and loins. Well angulated at knee and hock. Would prefer a slightly higher tail set. Slightly out of coat at the moment otherwise in excellent condition. Easy going temperament. Quality mover with a nice covering of ground. Grade - Excellent.

Photos