'Ch Nightquest Fireworks'
'Charlie'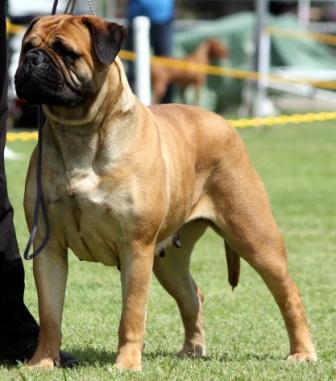 Charlie is a gorgeous girl out of our beautiful Trixie and sired by Bravo (Supreme Champion Bullsrkool Gift From Above)
Charlie has an outgoing temperament and is very affectionate. She loves nothing more than snuggling into your neck for cuddles and would stay there all day if allowed. She was awarded BEST BABY PUPPY IN SHOW at the 6th National Bullmastiff Specialty in NSW on the 7/6/14 under breed specialist Ms Fiona Miller (Meitza Bullmastiffs) in Scotland.
Since then she has been shown sparingly, but always catches the eye of the breed specialists and places highly in her classes.

Critiques

Puppy in Show - BCV Bullmastiff Specialty Champ Show 20/9/14. Judge - Mrs Yanina Smith (Tas)
Good height to length proportions. Square skull. Good width in muzzle. Wide mouth. Good lay of shoulder but would like better return of upper arm. Good feet. Short hock. Good reach and drive.

Baby Puppy in Show - 6th National Bullmastiff Specialty Show 7/6/14. Judge: Judge - Ms Fiona Miller (Meitza Bullmastiffs - Scotland)
Wow what a lovely trio of litter sisters, well done the breeders, a very close decision between 1 and 2. This baby girl has a lovely head and expression. She has a good eye and earset, lovely reach of neck, super depth of chest, lovely straight front, good bone, balanced front and rear quarters, good tailset. So balanced at such a young age and moved so well.

2nd Intermediate Bitch - Bullmastiff Club of Victoria Specialty 31/10/15 Judge - Mrs Pat Hall (NSW)
A quality Class. Obviously out of coat, excellent type. Correct depth and breadth of chest. Balanced bitch. A bit short in upper arm. Prefer a darker eye and wider open nostrils. Excellent type, typical head. Very good skull to muzzle, very truncated. Flows very well from neck to shoulder to topline which she keeps on the move. Well let down hock. Powerful movement. I can see this girl catching a poacher anytime. Very good rear angulation.

Intermediate In Show - Bullmastiff Club Of NSW Specialty. Judge - Breed Specialist Mr Bradley Richards (UK)
Cobby bitch, nice pleasing feminine head, good pigment, correct reach of neck, good overall outline, loved her front and rear construction, moved with drive, good side gait. Not a lot to dislike in this bitch.

3rd Open Bitch - Association All Mastiff Breeds Specialty 24/9/17 Judge Breed specialist/author Mr Bas Bosch (Belgium)
Middle sized bitch, plenty of substance and type, truly feminine. Strong head with plenty of muzzle. Well defined stop. Broad flat skull, nice cheeks. Well carried ears. Very dark well placed eye. Broad deeps set front. Slightly loose in elbow and would not mind to see a bit more daylight. Plenty of rib. Strong back and loins. Broad set hindquarters. Well angulated at knee and hock. Tailset ok. Excellent condition. Balanced mover.
Grade - Excellent.
Photos