About Us



Nightquest kennels is set on 2.5 acres which allows our dogs plenty of room to romp and play. We are a small select kennel where our dogs are foremost our guard and pet



The Past
We had thoroughly researched all dog breeds and had decided to go down to the local dog show and see our two finalists in the flesh. One being the Bullmastiff and the other the Rottweiler. We were pointed in the direction of the Bullmastiffs and there was no need to continue our search. There we saw this little pudgy four month old puppy sitting upright, ears flying, greeting everyone that passed. 'Love at first sight!'. Unbelievably this puppy was for sale and we quickly organized payment. We couldn't believe our luck. What a perfect day!

We had no intention of showing 'Amy' at that stage, but after meeting and talking to some exhibitors we thought it sounded like a bit of fun. And there is what started my show career and obsession to compete in the conformation ring with Bullmastiffs. To our surprise 'Amy' gained her Australian Champion Title and I gained a hobby I love.

Further down the track we decide upon a mate for 'Amy' and we bred our first litter. What an experience! We kept a male from this litter 'Digby', who in turn gained his Australian Championship title and ended up being one of our most successful show dogs.

Despite all this 'Amy' was always at her most comfortable when curled up on the front seat of my husbands van ready for their days work. She was a beautiful girl and we treasured every memory we had with her. She is the one to credit for our continued support in this Majestic breed. Thank you Amy.




The Present
Today it is myself, Michele Edwards, and my daughter, Elise Edwards who show and breed the dogs. My husband is supportive but dog showing is just not his thing. We currently have 5 Bullmastiffs living with us. 3 are being shown and two are retired veterans.




The Future
We always plan to better ourselves with each litter. We hip and elbow score all our breeding stock. We only breed from dogs that have proven their quality by gaining their Australian Championship Title and have excellent temperaments. We also import semen from OS to improve our lines.

We have big things planned for the future and hope that we can continue with the success we have already been lucky enough to experience.
We are at most of the larger Victorian Shows and are willing to introduce you to our dogs and answer any questions you may have on this magnificent breed.

We occasionally have puppies available to suitable homes but advise that there may be a wait so get your name on a waiting list as soon as you are ready. We also advise this is a breed that needs socializing and obedience, it is not a breed to leave in the backyard and ignore.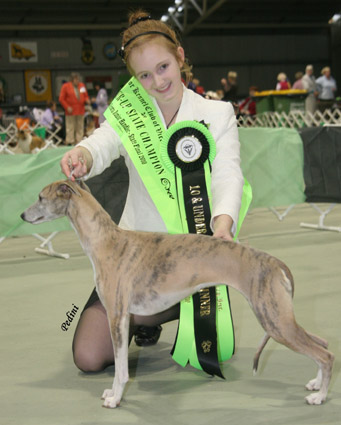 Junior Handlers
Since Elise could walk she has always been interested in our dogs.
We have always had Bullmastiffs, so she was used to their size and power.
She had always been a great help at home, helping me with feeding, walking, and training of all the dogs..

At the age of 9 Elise started helping me in the show ring and then by the age of 11 she was handling her own Bullmastiff as well as helping me with mine.
Her interest in showing Bullmastiffs then continued on into the child handler ring where children compete in different age groups against each other, judged only on handling skills.
Elise has had a lot of great wins in her short time handling.
In 2009 Elise qualified for the Junior Handler 'Victorian State Final' in only her first full year of handling. She handled our girl Ch Nightquest Belle Du Jour and much to our thrill, she won her age class 7 to under 13 years.

In 2010 Elise qualified again for the State Finals and this year handled a Whippet. This year she won her age group 10 and 13 years and then went on and came Runner Up Best Handler overall out of the 3 age groups.

In 2013 Elise qualified again for the State Finals. This time she handled a Jack Russell Terrier. She made the final 5 shortlist and was then given a Rhodesian Ridgeback as her swap dog. She won her age group 13 and under 18 years and then went on to win against the other age groups, Best overall handler in Victoria.
As a winner of the Victorian State Final she went to Tasmania to represent our State, Nationally. At this event she handled a Whippet and the swap dog that was chosen for her was an Old English Sheepdog. She came 2nd which earnt her the title of Runner Up National Handler for 2013. This was a huge honour and something we are all very proud of.

Special thanks to everyone who has given Elise advice and allowed her to handle their dogs.


The Nightquest Champions
We have Bred 2 Supreme Champion, 5 Grand Champions, and 43 Australian Champions (7 of these were from one litter). We are also very proud to have bred 13 Best Exhibit in show winners at Breed Specialty, Open and All Breeds Shows.