BISS. Ch. Nightquest Century Miss (AI)
"Trixie"

19th March 2008 - 6th Dec 2016
RIP Our gorgeous smiling Princess. You will be forever missed.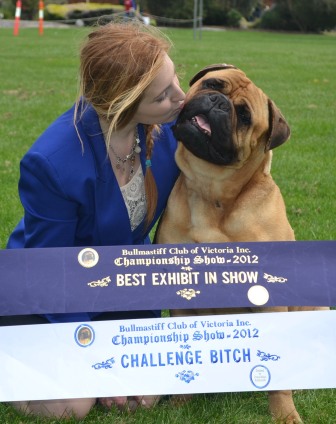 Trixie is a lively, confident and happy girl.
She possesses a lovely square head with a strong wide jaw. She has effortless movement and is very sound. She is a joy to have around and never ceases to put a smile on our faces. She has such a funny and lively personality.
Trixie became an Australian Champion 1st August 2009 handled solely by her 11 year old owner 'Elise'. What a great achievement.

At 4.5 years old Trixie wins BEST EXHIBIT IN Show at the Bullmastiff Club Speciality Show - Handled by Elise Edwards - 7/10/12 under breed specialist Ms Inger Dahle (Norway)

Critiques
MINOR PUPPY IN SHOW - Bullmastiff Club Of Victoria Specialty 5/10/08
Judge - Mrs. Joy Stevenson
'Very well balanced young bitch, good colour, good bone, good mover, nice head.'
2nd/10 JUNIOR BITCH - Bullmastiff Club Of NSW Specialty Championship Show 12/4/09
Judge - Breed Specialist - Mrs. Mave Rostron (Graecia Kennels U.K)
A really nice typey bitch. Good head, eye, mouth and muzzle. Very nice front and rear. Sound on the move.
2nd/7 - Bullmastiff Club Of Victoria Specialty Championship Show 3/10/10
Judge - Mr Glenn Sparham (Gameguard Kennels)
Longer body than the first but good rear maculation, well sprung ribs, well defined skull but too short in muzzle, this affects her bite, very wide front but lacks depth, moved ok.

1st/7 Open Bitch - Bullmastiff Club Of NSW Specialty Championship Show 8/4/12
Judge Breed Specialist - Mrs Kath Marion (Treebrook Kennels S.A)
This red bitch has a pleasing head although a bit short in the muzzle, good dark eye. Chest wide and deep, well let down between straight front legs. A well balanced compact bitch that moved with power around the ring keeping a level backline, she showed very well.

2nd/8 - Bullmastiff Club Of NSW Specialty Championship Show 15/9/12
Judge - Mrs A McInnes.
4 year old red, strong in head, front not as developed as 1. Well muscled throughout, strong in loin. Nicely angulated quarters, tight feet. Moved well, with a very sound, flowing action.

BEST EXHIBIT IN SHOW - Bullmastiff Club Of Victoria Specialty 7/10/12
Judge Breed Specialist - Ms Inger Dahle (Norway)
Excellent type, beautiful head and expression, prefect black mask and dark ears, correct proportions head - muzzle, strong topline, well developed body with nice forechest and depth of body, good bone and angulation, broad thighs, excellent mover.

Reserve Bitch & Open In Show - Bullmastiff Club Of Victoria's 40th Specialty Championship Show - 6/10/13
Judge was Ms Denise Borton (USA) – Bullmatiff Specialist.
Open In Show - Ch. Nightquest Century Miss - Slightly out of coat red with good pigment and eye color. Striking headpiece that may be a little too masculine for a bitch but with good proportion and a very strong muzzle. Her profile is correct, lovely breed type, beautiful angle fore and aft, strong in topline, tail set on high and skillfully handled. I did not penalize her matronly figure as she was in a fit and good condition - Ms Denise Borton (USA)
Reserve Challenge Bitch - Ch. Nightquest Century Miss - This is a deserving bitch that on any other day, would have won the ticket. Although slightly shorter in leg, she had so many virtues that would have enabled her to perform her duty. Not as strong in movement as the winner, it was the deciding factor to award the CC to the one who bested her - Ms Denise Borton (USA)




Photos