Aust Ch/NZ Ch Nightquest Testa Rossa
"Koda"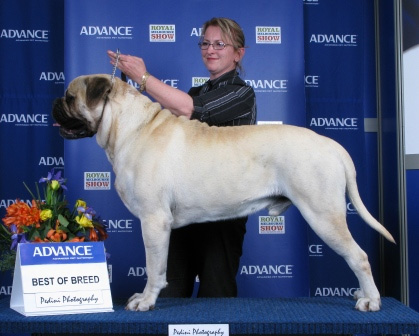 Koda is a real sweetheart, he has a great temperament and is very easy going in every way. He is a good 26" 65 kg clear fawn with excellent substance and boning. He has an excellent front with a great lay of shoulder and excellent width and depth of chest.
He possesses a beautiful square head with a near level bite and large teeth. He has a total 6 hip score and has 0 elbows.

He has won Best Of Breed at the Royal Melbourne Show in 2007 as a puppy and again in 2008 as an Intermediate.
He has also won 'Bullmastiff Of The Year' in 2008 in Victoria and again he won 'Bullmastiff Of The Year' in 2009 in New Zealand.
Koda is a Best Exhibit In Show winner at Open show level (where champions can compete) and a Runner Up Best Exhibit In Show Winner at Championship level.
Koda now resides in New Zealand and we wish Quentin and Tracey (Bodacious Bullmastiffs) all the very best with him.
He is sadly missed here at Nightquest but we know he is in great hands and thoroughly enjoying the change of scenery. We look forward to following his and his progeny's progress in the NZ show ring.


Critiques
Opposite Baby Puppy In Show - 4th National Bullmastiff Specialty 12/7/08
Judge - Breed Specialist Mr. Billy Brittle (UK)
'Once again a stunning baby pup that is almost the perfect Bullmastiff in miniature. Excellent construction with bone, substance and type in abundance. Moved well and handled with real care and attention. Lost to litter brother as Best Baby Pup on nothing more than a little excessive skin around the neck.'
3rd Puppy Dog Class - BCV Championship Show 30th Sept 2007
Judge - Mrs. Anne Marie Class (France)
Tall masculine dog with good head, white nails, did not move well today.

2nd Junior Dog - BCV Specialty Championship Show 27th April 2008
Judge - Breed Specialist Mr. Bas Bosch (Netherlands)
Middle sized Dog, he gives an already finished picture, plenty of substance. Masculine strong head, lovely skull shape and stop, plenty of cheek, superb muzzle, wide jaws, straight set teeth would prefer less wrinkle, nice bone, angulation front/ behind balanced, massive neck, sufficient dry, plenty of depth of spring of rib already, strong back and loins, decent tail set, suffient angulation in knee and hock, would prefer better pigmentation, especially of nails. Movement balanced but could do with a bit more drive behind.

2nd Junior Dog - BCV Specialty Open Show 27th April 2008
Judge - Breed Specialist Jody Harrison (Netherlands)
17 mth old fawn, well up to size. Lovely head. Excellent width and depth of muzzle and square skull. Nice eye setting and expression. Strong stop, wide underjaw with excellent bite. More wrinkle than preferred. Strong neck with well sprung ribs and good depth of chest. Excellent bone. Balanced angulation front and rear, but would like to see more angulation in the knee and hock to give more drive and overall balance. Moved okay. Well handled.

RUNNER UP BEST EXHIBIT IN SHOW - Dominion Bullmastiff Club Championship Show - New Zealand.
22/11/2009 Judge - Mr. Bas Bosch (Belgium)
Massive, compact masculine dog with very strong headpiece. Deep stop and excellent cheeks, slightly roundish forehead with plenty of wrinkle, broad deep muzzle with nostrils wide open. Massive neck, broad deep and still clean front, nice bone, sufficient strong feet, could do with more pigment, superb ribs and underline, excellent loins, would prefer a higher tail set. Sufficient angulated in knee and hock, but with broad hams. Moves with sparkle.
BEST DOG, BEST OPEN IN SHOW, BEST SIRE AND PROGENY - Dominion Bullmastiff Club Annual Championship Show
4/9/10 - Helene Nietsch (Branstock Bullmastiffs)
Beautiful English type, won on head type. Lovely head, depth of body, beautiful cheek development, nice small ear, good pigment, nice clear fawn, didn't win on movement, but very strong on breed type. Beautiful breed type, black mask, clear fawn, but i wished he moved better, beautiful arch of neck, substance & bone, beautiful English type.




Photos